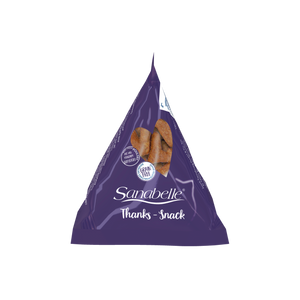 Available size
Available in 20g 
Made in Germany
At a glance
Supplementary food for adult cats | Extra portion of taurine to promote eyesight | Rich in vitamins and trace elements | Tasty and digestible
Product Details
Our Sanabelle Thanks Snack is characterised by its special shape (heart shape).
Due to the high proportion of liver meal (poultry), the snack is well accepted - even by fussy cats.
Half the daily recommended feed amount. Snacks should be a special extra and not be part of the daily ration for kittens.
*Even with the greatest care in the manufacture and packaging of our products, traces of other animal protein sources or cereals (containing gluten) cannot be ruled out.
Composition
Fresh Poultry (20%), Rice, Animal Fat, Millet, Poultry Protein (Dried), Greaves (Dried), Liver Meal, Dried Beet Pulp (Desugared), Protein Hydrolyzate, Salmon Meal, Whole Egg (Dried), Linseed, Yeast (Dried), Calcium Carbonate, Potassium Chloride.
Analytical Components
Convertible Energy 414 kcal/100 G (17.33 MJ/kg), Protein 30.5%, Fat Content 22.0%, Crude Fiber 2.5%, Crude Ash 7.5%, Phosphorus 1.0%, Calcium 1.1 %, Magnesium 0.1%.
Additives
Nutritional Additives per kg 
Vitamin A 17,000 IU, Vitamin D3 1,500 IU, Vitamin E 150 mg, Vitamin B1 20 mg, Vitamin B2 18 mg, Vitamin B6 20 mg, Vitamin B12 40 mcg, Biotin 280 mcg, Pantothenic Acid 20 mg, Niacin 75 mg , Taurine 1,300 mg, Folic Acid 2 mg, Choline Chloride 2,450 mg.
Trace Elements per kg 
Zinc (As Zinc Oxide) 30 mg, Zinc (As Amino Acid Zinc Chelate, Hydrate) 40 mg, Copper (As Copper(II) Sulfate Pentahydrate) 10 mg, Iodine (As Calcium Iodate, Anhydrous) 2.0 mg, Selenium (As Sodium Selenite) 0.20 mg.
Technological Additives
Antioxidants
Feeding Recommendation
| | |
| --- | --- |
| Your cat's ideal weight | Grams per day |
| 2 - 3kg | 4 - 5g |
| 4 - 5kg | 6 - 7g |
| 6 - 7kg | 8 - 9g |
| 8kg | 10g |
This information is a guide. Individual needs depend on factors such as age, breed, activity levels and housing conditions. With increased activity, please increase the amount of food accordingly. Do take snacks into account when calculating the total feed ration. Please always provide fresh water. 
--------------------------------------------
Share your story I You never know whose life you could change. Tag @briopets  #👍🏻lifechangingbriopets  #❤️sanabellesg on products that have positively transformed your fur kids.
Need some nutritional advice, or unsure which food is best for your pet? briopets is always here to lend a paw, reach out at: nutrition@briopets.com