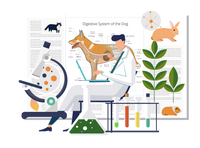 How can we help?
Need some nutritional advice, or unsure which food is best for your pet? briopets is always here to lend a paw. Reach out to us at nutrition@briopets.com
Testimonials
⭐  ⭐  ⭐  ⭐  ⭐ 

Briopets is simply amazing! Super efficient and friendly with quick replies.

Audrey Chen
⭐  ⭐  ⭐  ⭐  ⭐ 

Thank you briopets for providing solution for Joey ! His skin condition has become better with Bosch dog food. Good thing he loves the flavour too!

Jessica Kho
⭐  ⭐  ⭐  ⭐  ⭐ 

Hassle free, fast, great savings and friendly service! Highly recommended!

Hasfarela Husain
⭐  ⭐  ⭐  ⭐  ⭐ 

I am greatly pleased with the results of what Briopets have recommended. They are very helpful and you can always seek for their advise if you need any recommendations for your lovely companions.

Elaine Seow
⭐  ⭐  ⭐  ⭐  ⭐ 

Extremely speedy in delivery of hay - usually within 1-2 days! Hay is fresh, green and nice smelling, my rabbits love it very much!

Huijia C
⭐  ⭐  ⭐  ⭐  ⭐ 

I've been ordering Sanabelle Outdoor to feed community cats for the last 6 months and I can see a huge improvement in their skin and coat! Love the work that Briopets does for CSR! Will purchase from here again :)

GaLt3R
brioPets Singapore - The Best Pet Food & Supply Online Store
Your fur baby deserves nothing less than the best. brioPets carefully curates high-quality pet food and supplies for your pet cats, dogs and small animals to nourish them and provide them with proper care. Our mission is to create life-changing-moments from hand to paw so we strongly believe in offering special products that put your pet first.Grab all your pet supplies and pet food online in Singapore from our one-stop-shop and use our free delivery services with a minimum shopping cart value.
Dog Food and Supplies
Made in Germany, bosch provides some of the most nutritious food for dogs with a broad array of meals for puppies, adults, and senior dogs, as well as for all breed sizes. bosch has over 60 years of experience and has developed advanced technologies that offer fully natural nutrition for dogs to maintain their health. brioPets, the sole distributor of bosch is proud to bring to you bosch dog food to ensure your dog's meals are packed with high quality, healthy and organic ingredients that provide all the nutrients your dog needs for their best life.
Have concerns about your dog's sensitivities and allergies, weight management, and kidney, liver and renal health? You can find a customized selection of bosch dog foods to meet the needs of your beloved pet. bosch has used years of research and scientific knowledge to boost your beloved dog's immunity and natural healing capabilities. If your dog is allergic or sensitive to gluten and other allergens, go with bosch's HPC Sensitive. It is specially made for dogs with digestive system issues.
Meet your dog's dental, ear, eye care and grooming needs with LILA LOVES IT products. brioPets is the exclusive distributor of the LILA LOVES IT range of pet supplies inSingapore due to its dedication to meeting sensitive pet care needs and the use of fully natural ingredients. It is one of the few brands that uses human medical innovation to create all-natural items for pets that are easy to use yet highly effective. 
Cat Food and Supplies
Sanabelle, made in Germany, is brioPets' No. 1 choice for your beloved cats. It has a wide range of food and treats available made with healthy ingredients and is one of the brands that strongly believes in natural nutrition as preventive medicine. This offers options for your cats whether they have sensitivities or allergies, weight issues or liver, renal and kidney health concerns. Sanabelle aims to provide a therapeutic cat food diet that supports longer, healthier lives.
Need a one-stop shop for all your supplies? Other than cat food that boosts your cat's immunity and boosts their health, brioPets offers litters, litter boxes and litter bundles that can quickly absorb liquids and odours, hence keeping your pets & home smelling clean and fresh.  Your cat's hair, skin, dental and paw care needs are well-met with our selection of grooming tools. You can take advantage of promotions when we have a sale to save some money while purchasing new grooming items for your beloved kitty.
Overwhelmed with the number of supplies you need for your new furry friend? Grab our Basic Cat Starter Kit with food, snacks, tunnel and catnip so your cat receives the best care from day 1 from the best online pet store in Singapore.
Small Animal Food and Supplies
Rabbits, guinea pigs, and chinchillas need tender loving care too! brioPets' small animal collection includes everything you need to care for your little pets.
When it comes to pet food, American Pet, made in the USA, is our best choice for you. Pellets, hay, and electrolytes help to replenish fluids for a stressed pet. Cute, small crocks are ideal for feeding tiny animals, and if they ever lack vitamins, you can try the probiotic paste specifically developed for them. American Pet hays and related pet food aims to boost the immunity of your little herbivore, promote longevity and improve total health.
Grab our range of LILA LOVES IT products to care for the grooming needs of your small animals. LILA LOVES IT is one of the world's most advanced natural grooming brands that uses all-natural ingredients that are gentle on your little pets.
brioPets is the best online pet store in Singapore that provides a wide assortment of pet food online. You can get free delivery in Singapore with a minimum shopping cart value. Earn further discounts and save some money when you take advantages of our promotions or items available on sale.