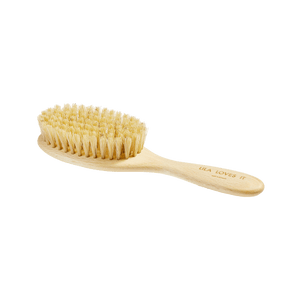 For gentle grooming of puppy
For relaxed grooming right from the start.
Made of soft natural hair bristles
Handmade with great care in the Black Forest, one of the last brush manufacturers in Germany

FSC Certified
At a glance
Extra soft brush with natural bristles | Easily removes loose hair and dirt from the fur
Product details
With its soft natural pig bristles, the PUPPY BRUSH combs through the sensitive puppy coat particularly gently. This allows puppies to experience regular grooming as a ritual of relaxation. The development of a secure bond between human and dog is supported by brushing. 
Meticulous coat care is essential, especially during shedding season and when there is increased exposure to pollen and fine dust. 
Application
Brush the puppy's coat every day with gentle movements in the direction of coat growth. Make sure the atmosphere is relaxed. If a puppy does not enjoy being brushed, a few strokes are sufficient. Don't forget words of praise and treats.
Recommendation
Our brushes are super easy to clean with the specially designed BRUSH CLEANER. This traditional tool reliably removes hair and felt nodules with its prongs, even those accumulating around bristles. Easy to use, effective, handy. Indispensable for brushes that are meant to last a dog's lifetime.

--------------------------------------------
Share your story | You never know whose life you could change. Tag @briopets  #👍🏻lifechangingbriopets  #❤️lilalovesitsg on products that have positively transformed your fur kids.