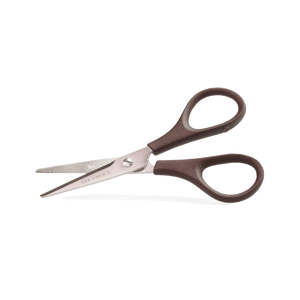 Size: Approximately 10.5cm
For cutting and trimming of paw fur 
High quality scissors for the paw fur 
With special grinding for optimal control 
Made with love in Germany
At a glance
Special cut for precision and safety | Ergonomically designed | Made of stainless steel
Product details
Trimming long hair in the area between the paw pads is essential for keeping dog paws healthy. Particularly long-haired dogs often suffer from matted paws. This is not only a cosmetic problem: Felt in the space between the paw pads can lead to painful pressure points and is also an ideal breeding ground for germs. To prevent paw hairs from collecting dirt and water on every walk and eventually sticking together, they should be shortened regularly. A regular haircut is active health protection. 
Good scissors are indispensable in dog grooming. They must be of high quality and provide a precise feel when used. Our PAW SCISSORS from a scissor manufacturer in northern Germany are made of high-quality stainless steel. They fit well in the hand and allow effective trimming of the paw hairs. The innovative micro-serration of the blades prevents the hair from slipping away. This makes grooming fast, precise, and above all safe.
Application
Shortening the paw hairs is easiest when the dog is lying relaxed on her side. Gently press the pads apart and carefully trim back the excess hair.
Recommendation
After shortening the paw hairs, the paw pads can be especially well lubricated with our nourishing PAW CARE. This strengthens the paw skin and keeps it supple.

--------------------------------------------
Share your story | You never know whose life you could change. Tag @briopets  #👍🏻lifechangingbriopets  #❤️lilalovesitsg on products that have positively transformed your fur kids.