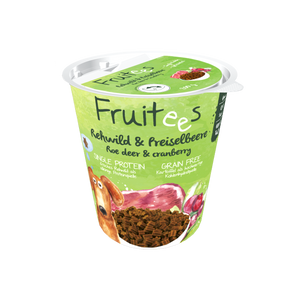 bosch Finest Snack Concept Fruitees Fresh Roe Deer & Cranberry
Healthy dog treats with fresh roe deer (20%) 
Produced in Germany
Certified premium producer in Baden-Wuerttemberg
Available sizes
At a glance
Extremely Tasty | Single Protein | Meaty, fruity snack | Semi-moist | Without added sugar & flavourings | Grain-free* | Ideal as a training reward
Product details
bosch Finest Snack Concept Fruitees Fresh Roe Deer & Cranberry healthy dog treats are tasty, juicy mini bone shaped treats with 20% fresh roe deer as the only source of protein. It is a healthy delicious treat for your dog, and perfect for the optimal training of your dog at every opportunity.
bosch Finest Snack Concept Fruitees Fresh Roe Deer & Cranberry healthy dog treats are produced with Lingonberries that provide natural, plant-based antioxidants, and has a residual moisture of 28% as a semi-moist supplementary food and therefore have a soft consistency that your dog is sure to love.
Thanks to the practical, re-sealable 'Soft-Lift-Cup', the Fruitees remain fresh and soft, right up to the last bite.


Composition
Potato protein, potato (dried), potato starch, fresh roe deer (8%), peas (dried), cranberry (dried, 4%), pea protein, cellulose fibres, sodium chloride.
Even with the utmost care in the manufacture and packaging of our products, traces of other animal protein sources or (gluten-containing) cereals cannot be completely excluded.
Moisture 28.0%, metabolisable energy 10.62 MJ/kg, protein 20.0%, fat content 2.0%, crude fibre 2.5%, crude ash 4.7%, phosphorus 0.80%, calcium 0.33%, sodium 0.17%, potassium 0.64%, magnesium 0.05%.
Additives
Nutritional additives per kg
Vitamin A 5.000 I.E., Vitamin D3 500 I.E., Vitamin E 40 mg.
Trace elements per kg
Copper (as cupric sulphate, pentahydrate) 12 mg.

Technological additives
Antioxidants, preservatives
More product details
When you are training a dog, positive reinforcement of good behavior is a key strategy for success. Bosch Fruitees healthy dog treats are designed with dog training in mind, being both the ideal shape and size for a tasty reward. The little bone-shaped snacks can be eaten up quickly, without distracting the dog for too long from the matter in hand.
Ideal for positive reinforcement of good behaviour in your dog, particularly as part of formal training
Mini-Bone shape: Designed to be eaten quickly so that the dog is not distracted from the training task
20% meat from premium poultry, venison or pheasant
Semi-moist: Soft consistency means dogs are unlikely to reject the snacks, and they love the taste
No grain*: easy to digest and also great for dogs with allergies
Top quality. Exclusive use of high quality, largely regional ingredients free from chemical flavours, colourings and GMOs.
Flavour protection. Thanks to special Fresh Pack to protect flavour and freshness.
Our feeding recommendation
Our feeding recommendation

Optimal weight of  your dog

Gram per day


8.0 kg
18 g
15.0 kg
30 g
35.0 kg
55 g

——————————————————————————————
Share your story | You never know whose life you could change. Tag @briopets #👍🏻lifechangingbriopets #❤️boschsg on products that have positively transformed your fur kids.
Need some nutritional advice, or unsure which food is best for your pet? brioPets is always here to lend a paw, reach out at: nutrition@briopets.com