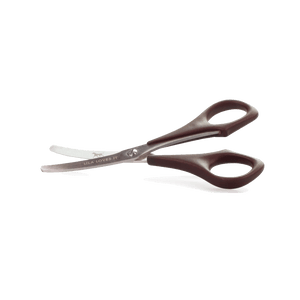 Size: Approximately 13.5cm
High-quality scissors 
With special grinding
For trimming of dog coat and hair
Rounded tips to guarantee a safe cut
Made with love in Germany
At a glance
Special cut for precision and safety | Ergonomically designed | Made of stainless steel
Product details
The FUR SCISSORS are the all-round talent in our scissors range. Its ergonomic shape adapts perfectly to hands of all sizes. For maximum safety and comfort, the tips are rounded, the blade is curved upwards. The special cut guarantees professional precision. The scissors are forged from stainless steel and produced by a traditional scissors manufacturer in northern Germany. A long-lasting, high-quality top product for professional grooming at home.
Recommendation
Regular brushing and grooming are especially important for the health care of dogs with long hair and dense undercoat. Our Brush Long Hair glides effortlessly through all coat types. For a brushing routine that feels truly relaxing.

--------------------------------------------
Share your story | You never know whose life you could change. Tag @briopets  #👍🏻lifechangingbriopets  #❤️lilalovesitsg on products that have positively transformed your fur kids.