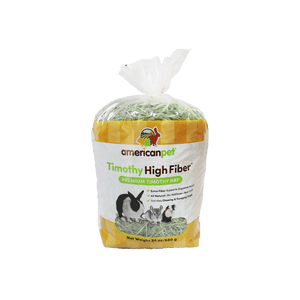 Available in 24oz and 5lb
Made in USA

At a glance
Ideal for adult and older herbivores | Perfect for pets that need fewer calories and more dental wear | No additives | Higher in fiber and lower in calories | Coarse Texture | Satisfies the need to chew, and reduce boredom | Supports dental and digestive health
Product Details
Timothy High Fiber Hay is naturally green, sweet, aromatic, and tasty. Itt contains a higher fiber content and has broad leaves and soft stems, ideal for your healthy pet as well as the less active and older pets. Good for rabbits, chinchillas, and prairie dogs to help them wear down their constantly growing teeth and satisfy their urge to chew. 
Timothy High Fiber Hay is the first cut of Timothy Hay and is coarse stemmed with lots of seed heads and mid green color. It engages small pets with satisfying textures. Coarser stems and lots of seed heads deliver a fiber-packed punch sure to meet high fiber needs. Timothy High Fiber Hay provides great gnawing and chewing activity for mental and physical fitness. Hence , it is an excellent source of fiber for helping to create a healthy digestive tract for your pet. 
Features 
Increases digestive motility 

Helps produce firm droppings and reduce diarrhea 

Helps digest other foods for better utilization 

Helps reduce pet boredom by giving them something to do 

Balances the diet and helps control calcium and calorie intake 

Helps remove hairballs
Please note: American Pet packs freshly harvested hay in the high plains of Nevada without additives and preservatives. Hay harvested during different seasons will have some color and size variations.
Ingredients
First cut of naturally grown and sun-cured Timothy Hay
Guaranteed Analysis
Crude Protein: Not less than 8.0%
Crude Fat: Not less than 2.4%
Crude Fiber: Not less than 30.0%
Moisture: Not less than 12.0%
Calcium: Not less than 0.5% 
Recommendations
Feeding
For best results, feed unlimited Timothy High Fiber Hay daily to provide the extra fiber that is essential to the health of your pet's digestive system. Remove and discard any soiled or wet hay daily.
Hay is not a complete diet and should be fed in conjunction with the appropriate American Pet complete pellet ration. Always provide plenty of clean, fresh water. 
Storage
Store in a loosely covered container in a cool, dry place away from sunlight or heat sources.

———————

—————

—————————————— 

Share your story I You never know whose life you could change.
Tag @briopets  #👍🏻lifechangingbriopets  #❤️americanpetsg on products that have positively transformed your fur kids.

Need some nutritional advice, or unsure which food is best for your pet? briopets is always here to lend a paw, reach out at: nutrition@briopets.com